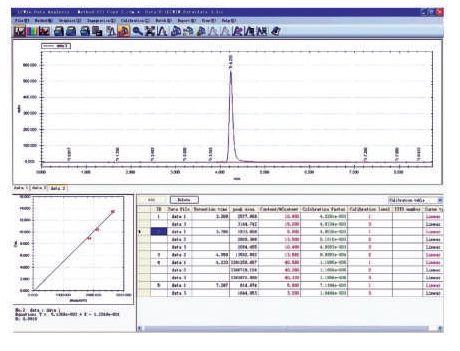 Analchrom Chromatography workstation software data handling system is compatible with any model of chromatographic analytical instrument available in the market. Our state of the art hardware comes in two different models, while you can connect the two channels to the dual detectors of the same instrument for simultaneous data acquisition, you can also connect them to the two different instruments for independent data acquisition.
This software system is structured in such a way that all the sequences related to an analysis (Standard from acquisition of raw data signal, to integration of chromatogram, to calculation of components quantities, through to preparation of analysis report) are incorporated in one serve document called chromatogram file. By applying document windows technique and split window technique, we have design a one page document window for you to display the entire working element for chromatogram file in one screen for quick access and manipulation.
Analchrom is liquid chromatography software package developed by Analytical Technologies. It provides complete control and data processing function with simple and efficient operation. Complies with 21 CFT/GLP/GMP features. PDA/DAD (Diode Array Detector) control & acquisition is possible. Online GPC (Gel Permeation Chromatography) calculation.
Licensed HPLC software for control of all HPLC modules like pump, tector etc. for qualitative and quantitative analysis.
Parameter validation management.
Compatibility with general detectors.
Compatibility to import and export the data.
Ability to acquire and analysis and store spectral library.
Flexible report publisher to make report in desired form.
should have system suitability option.
GLP Compliance.
ANALCHROM is the most universal software of the entire product line. All other versions are derives from the full clarity software.